Guns
IZHMASH 7.62×39 REVIEW (KALASHNIKOV CONCERN AK103)
Home-field advantage and the fact that most AR-15's are manufactured in the same country make comparing and contrasting AKM and AK-inspired firearms rarely as simple as one make/model versus another. In this way, the AK platform straddles both the old world and the new, as the icon of 20th century mass manufactured firearms meets the attention to detail this marketplace values.
For AKs, both the country of origin and the manufacturer come into play, with some specific factories singled out for their reputation.
KALASHNIKOV CONCERN AK103 SPECS
Caliber7.62×39
ActionLon-Stroke Gas Piston
MagazineStandard AK
FurinturePolymer
BarrelChrome Lined
Barrel Length16 in
Weight7.9 lbs
Country of ManufactureRussia
FactoryIzhmash
Izhmash Saiga AKM Background
When we think of Guns made in American (even if only allegedly), we think make/model. When we think of guns imported from other countries, we think type/country/factory. One should not be faulted, however, for thinking of a factory when they see the name Izhmash, as it has referred to both a physical location, and a company responsible for manufacturing firearms of the Kalashnikov genome.
Anywhere in the world, the Kalashnikov name can get you far. Just as the millions of AK-pattern rifles came from numerous factories across a number of countries, name changes notwithstanding.  So the novelty of a mass-produced firearm gets combined with the value of knowing a thing or two about what to look for when inspecting it. The AKM style frame is new enough to enjoy the "modularity" of aftermarket support, while still requiring something of the end user when it comes to fitment. Not every part works on every gun.
Here's where the Izhmash comes in, and in the same swing, deals a blow against itself. Generally speaking, we can see the Izhmash-made AKM as closer to the schematic. While objectively, this means that commonly available replacement parts are more likely to fit, it subjectively implies that it should be kept stock for history's sake. This is further exacerbated by the welded muzzle brake.
Izhmash 7.62×39 Features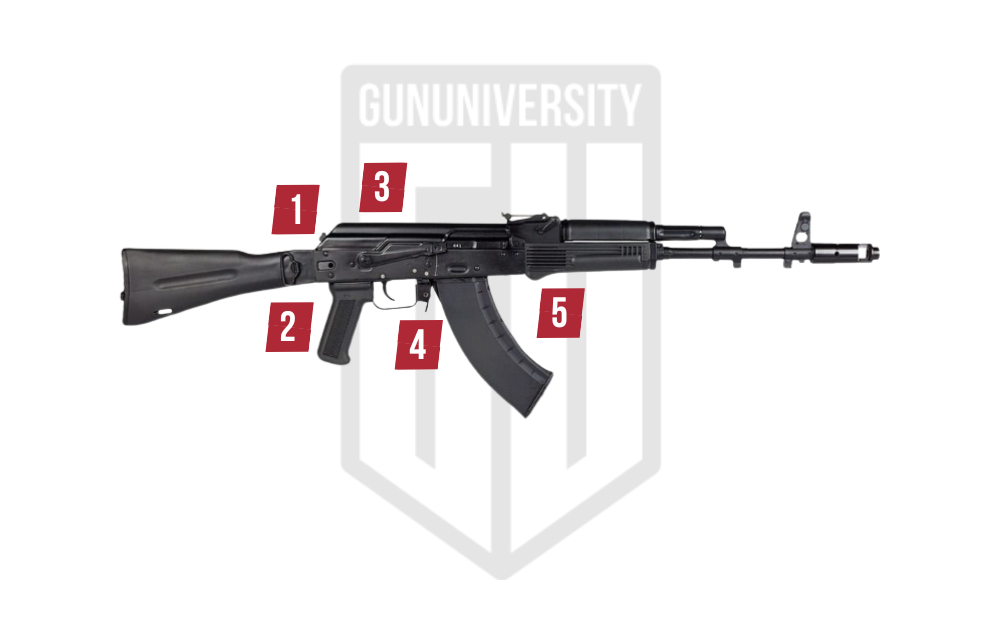 1
PROPER RIVETS
The telltale sign of sturdy AK manufacturing is present.
2
AFTERMARKET SUPPORT
One Perk to being pureblood is they make most dressings with you in mind.
3
SIDE RAIL INCLUDED
Optics are an option for those who prefer the stock front rail.
4
ICONIC MARKING
It's proud of what it is.
5
FORGED FRONT TRUNNION AND CHROME LINED BARREL
Both are reliable with available ammunition.
MODELS AND VARIATIONS OF THE IZHMASH SAIGA AKM
Kalashnikov Concerns has many different AKMs. They offer the AK100 series which includes 4 long and short version of the AKM in 7.62×39 and 5.56 NATO. They also have the Classic AK74M in 5.45×39. All of these are pretty hard to get your hands on in the US these days.
IZHMASH SAIGA AKM 7.62×39 –  OUR TAKE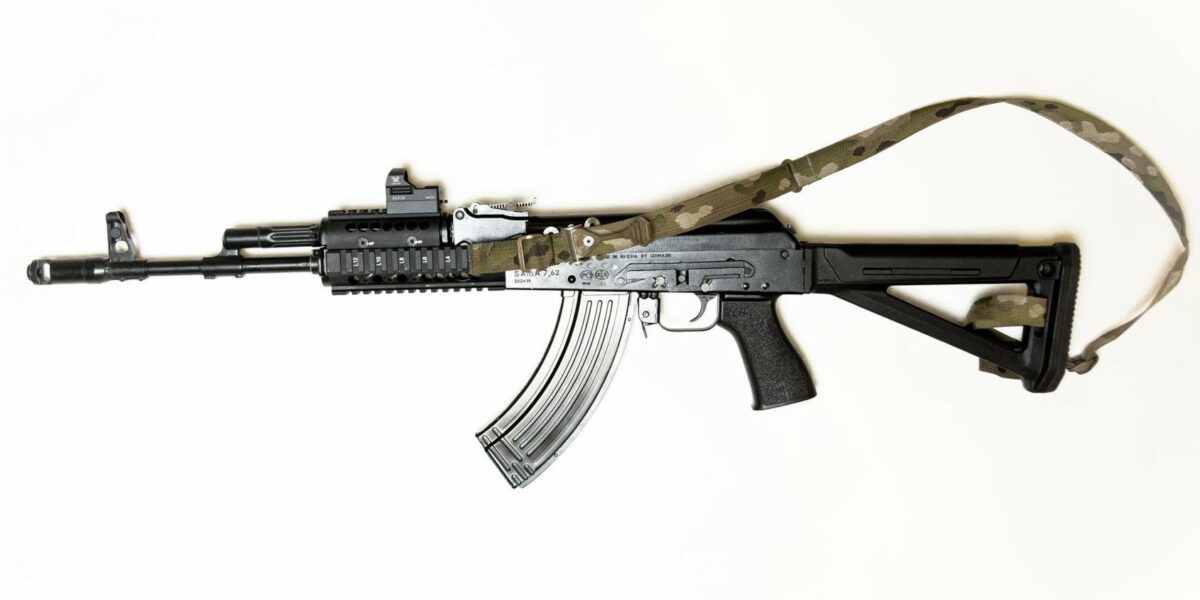 The problem with reviewing an AK is that sometimes you are working with a piece of history, and sometimes you are evaluating a tool for its utility. The first implies subjective qualities, and the second assumes mostly objective characteristics.
Objectively speaking, the whole firearm works together in the way that an AKM should: the accuracy is acceptable, and the felt recoil is considerably more enjoyable with the fixed brake than with other AK variants. Replacing the thin stock grip with a readily available US Palm improves the quality of life of the shooter. Magazines still require a bit of fitting to function correctly, but with a little bit of Magpul at the back and Midwest Industries at the front, they can smooth out some of the sharp edges.
SHOOTABILITY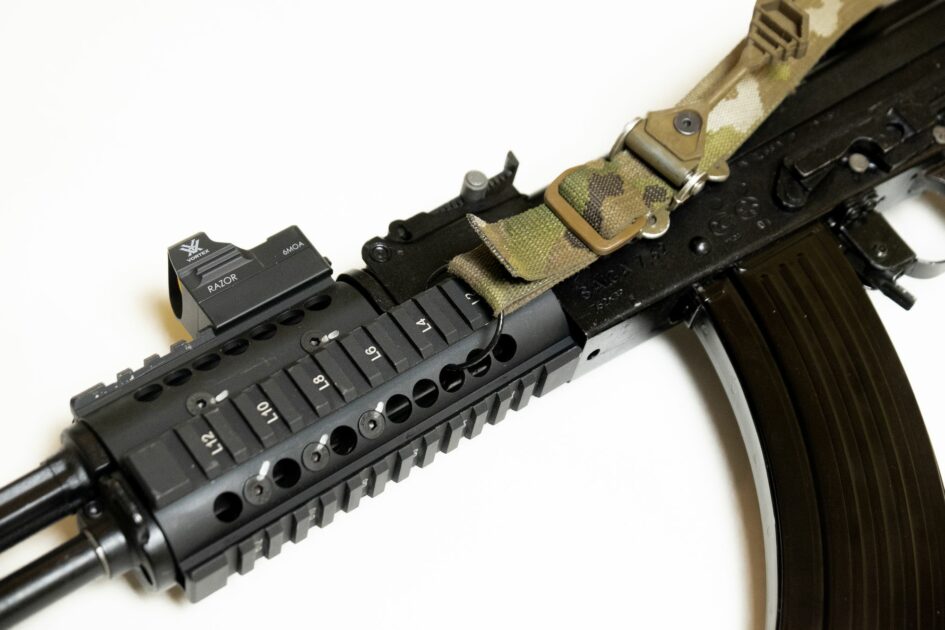 For those of us in the Head's Up camp of modern shooting posture, mounting an optic on the forend does work well with night vision, but may very well force any laser to be side-mounted. Whether you go forward or back, you're going to have to deal with some zero-shift as things heat up or the scenario gets rugged.
The objective performance of this AKM can occasionally surprise those familiar with the raw mechanical feel of other AKs. Compared side-by-side, it feels like they smoothed the rough edges out, at least on the inside. As the long-stroke gas piston rocks back and forth, the whole firearm rolls gently in the shooter's hands, making it easy to keep a dot on target. The flash, however, makes low-light shooting a little spicy.
RELIABILITY AND ERGONOMICS
Quality of Life with this AKM is one part equipment, two parts user experience. With each action in the manual of arms such as reloading or fixing malfunctions, add-ons and fine tuning mostly sort themselves between two types: either pass/fail, or levels of improvement. If you must be able to mount an optic, this AKM will suffice. Does it hit reliably at 100 meters with steel cased ammunition? Yes. Can you swap out the most offending parts? Yes. But if you're looking for a host to incorporate a left-side charging handle, there are other options.
ACCURACY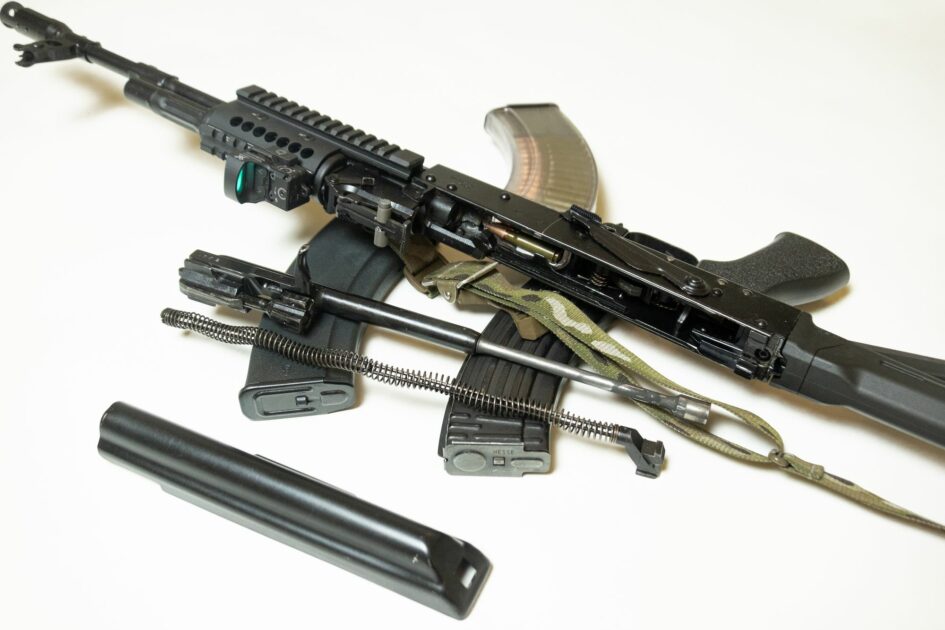 There is a myth that survives on Mountain Dew that claims the AKM is an inherently inaccurate firearm. But what this misses out on is just how far the AR-15 has come in the last 15 years. In a world where the average infantryman deployed with a 3 MOA barrel on his M4, and the moral dubiousness of the variety of end users of the AK, accuracy is a thing to be considered on a case-by-case basis.
This Saiga 7,62, made in Russia by Izhmash, holds a consistent group between 1.5 and 2 MOA, ammunition dependent. In the future, we'd like to test it with some match grade ammunition to see if there's room for improvement.
VALUE
Subjectively, this Saiga AKM resides in-between two worlds. In the American Market, they rarely come available unaltered in some way, and this one is not quite a collector piece, though it may become one, someday. However, the irreversible work necessary to turn this one into a platform depicting modern tastes might be better suited for someone to do on a different specimen. The virtues of this specific Saiga 7,62, made in/by Izhmash, are also its greatest challenges.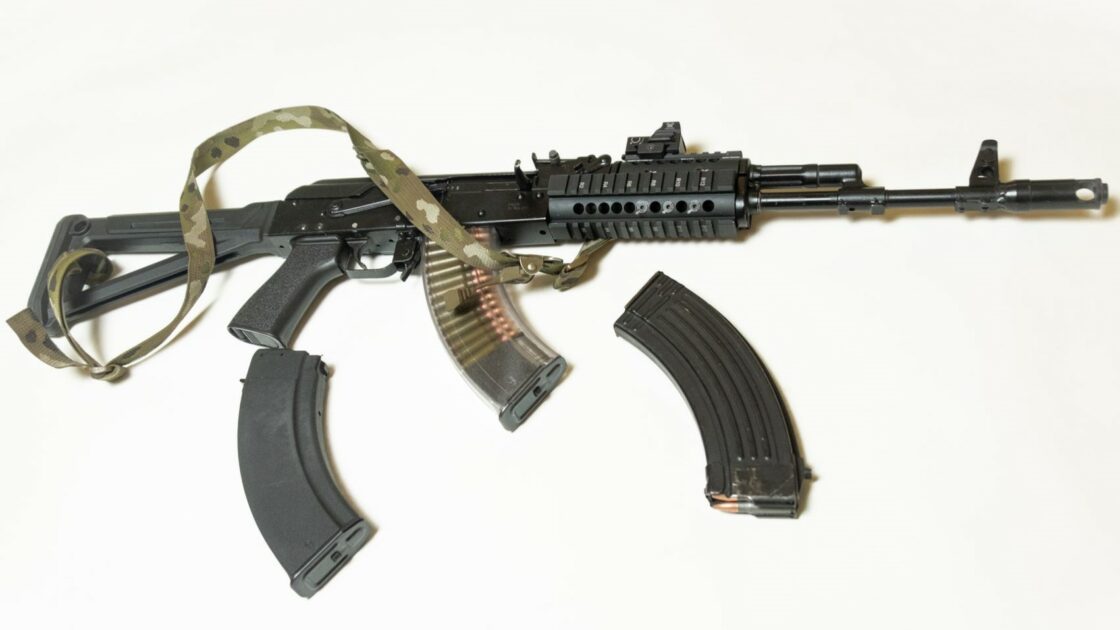 Izhmash 7.62×39 Pros And Cons
Sturdy Manufacturing – The gun is trustworthy, on and off the range
Classic + Perks – Functions well out of the box, but accepts some of your preferences
Total Package – The whole is a summary of good parts
Acquisition – Thanks to import bans, they are not easy to get your hands on
Fixed flash Hider – If you want to add a suppressor, it's going to take some irreversible work
REPORT CARD

SHOOTABILITY

Exceptional in its family tree

A

RELIABILITY

Simply because it's not easy to come by. A higher rating would be warranted if replacement parts didn't require so much fitting.

B

ERGONOMICS

It's an AK, which function for their era, but have fallen behind more modern standards.

C

ACCURACY

Acceptable, nothing more, nothing less.

B

VALUE

Eye of the Beholder. Considering that the price of these specific AKMs fluctuates so much, their value changes from piece to piece, and month to month if cost is a factor.

B

Izhmash Saiga AKM (Kalashnikov Concern AK103)
OUR GRADE
B
Reviewed byForrest Cooper
READER'S GRADE
TBD
Based on0 Reviews
YOUR GRADE
Do You Own This Gun?Leave A Review
IZHMASH 7.62×39 STARTER PACK
These three items are must haves for all firearms owners.
Eye Protection: Eyes are hard to replace, you need to have eye protection on when shooting. Here are our recommendations for the best shooting glasses!
Hearing Protection: Odds are you already are damaging your ears in day to day life before adding shooting to the mix. If you are going to be shooting you need to have good hearing protection.
Gun Cleaning Kit: Here is a link to our article on gun cleaning kits you'll need to keep your firearms maintained.
UPGRADES AND ACCESSORIES FOR THE KALASHNIKOV CONCERN AK103
The first things to get for your rifle are extra magazines and a good sling. Magpul always delivers with good magazines. The Ferro Concepts sling offers a pad for comfort and fast, easy adjustment.
For the next upgrades, you may want to tread lightly. We have some furniture upgrades selected for your Izmash AKM. If you do feel the need to customize your somewhat hard to find Izmash rifle, these are great options.
Upgrades And Accessories For The AK103
MAGAZINES

MAGPUL PMAG AK-47 / AKM MOE 7.62×39 30-ROUND MAGAZINE

Impact and crush resistant all polymer body
Constant-curve internal geometry for smooth feeding
Anti-tilt, self-lubricating follower for increased reliability
Long life stainless steel spring

CHECK PRICE

SLING

FERRO CONCEPTS SLINGSTER

Adjustable pad to maximize comfort

Removable pad allowing the use of a plain Slingster

Made in the USA

BUY ON AMAZON

TOPCOVER

MIDWEST INDUSTRIES AKG2 UNIVERSAL M-LOK TOPCOVER

Weighs only 7.5 ounces
Installs in minutes with no permanent modifications
Lifetime Warranty
100% Made in the U.S.A.

CHECK PRICE

MAGPUL STOCK

MAGPUL ZHUKOV-S FOLDING COLLAPSIBLE STOCK

Angled rubber butt-pad
Positive retention in the folded position
Option QD socket and cheek risers
Adjustable length of pull

CHECK PRICE

PISTOL GRIP

US PALM AK PISTOL GRIP

More vertical angle for modern shooting techniques
High-strength polymer construction
Non-slip texture for all weather
Fits almost any AK pattern rifle ever made

CHECK PRICE
BEST AMMO FOR YOUR KALASHNIKOV CONCERN AK103
Tula and Wolf steel case ammo is what was used for this review. We found some deals on line for you to stock up with.
Range Rounds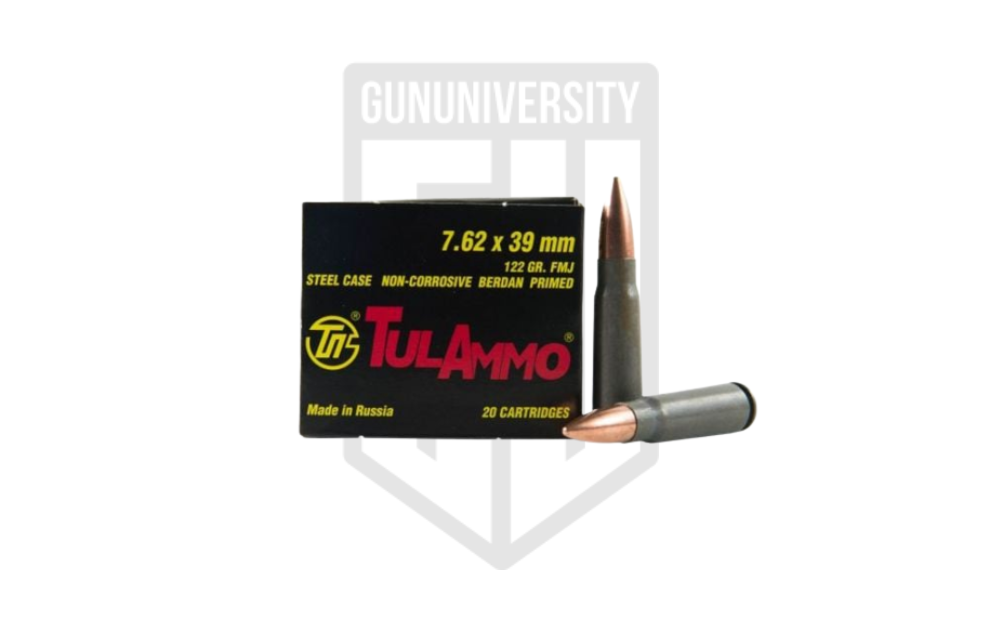 TULA 7.62×39 122GR FMJ
| | |
| --- | --- |
| MARKETPLACE | COST PER ROUND |
| Gun.deals | $0.47 |
| Palmetto State Armory | $0.47 |
Defensive Ammo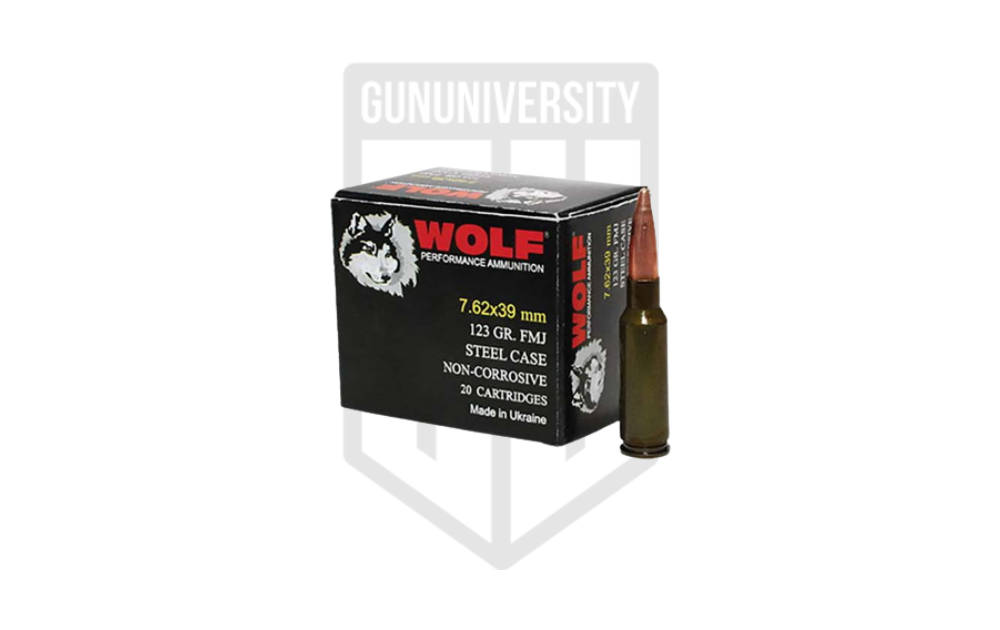 WOLF 7.62×39 123 GR FMJ
| | |
| --- | --- |
| MARKETPLACE | COST PER ROUND |
| Gun.deals | $0.40 |
| Optics Planet | $0.57 |
| Sportsman's Guide | $0.66 |
OTHER RIFLES CLASS TO CHECK OUT
We dedicated an articles to our favorite AK Rifles. Check it out here. Here are two that scored high though.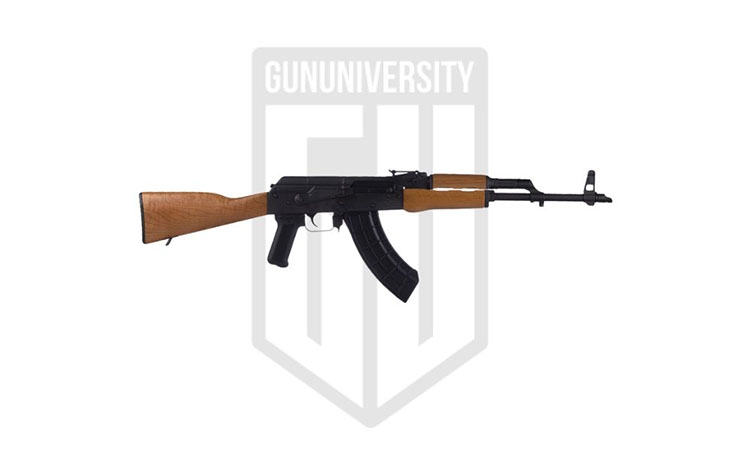 WASR-10 AK-47 RIFLE
The WASR-10 is an excellent model of the AK-47, even though it is the cheapest. We don't hesitate to recommend.
CHECK LATEST PRICE 
ShootabilityB+
ReliabilityA
ErgonomicsB+
AccuracyC+
ValueB
OUR GRADE
B+
Reviewed byForrest Cooper
READER'S GRADE
B+
Based on18 Reviews
YOUR GRADE
Do You Own This Gun?Leave A Review
TEST

 PSA AK47 MOEKOV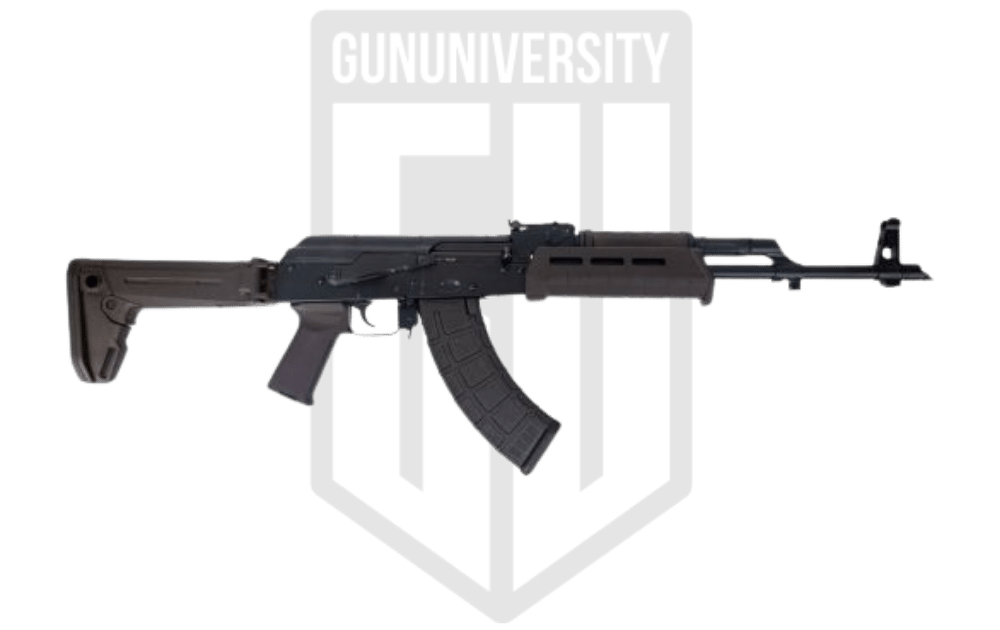 PSA AK47 MOEKOV
The PSAK47 MOEkov model is a variant of the PSA AK GF3 series of American AKs from Palmetto State Armory.
CHECK LATEST PRICE 
ShootabilityB+
ReliabilityB+
ErgonomicsA-
AccuracyB
ValueB+
OUR GRADE
B+
Reviewed byForrest Cooper
READER'S GRADE
TBD
Based on0 Reviews
YOUR GRADE
Do You Own This Gun?Leave A Review
HOW TO CARE FOR AK47
This video from Classic Firearms shows you how to take apart and clean your AK style rifle.
IMPORTANT LINKS AND MANUALS FOR IZHMASH 7.62×39 RIFLE